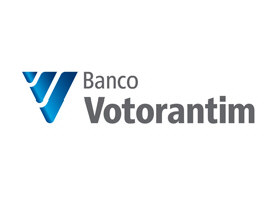 Banco Votorantim is positioned among the top ten banks operating in Brazil in terms of total assets, which totaled R$ 46.0 billion in 2005 (25.9% increase compared to the previous year). Stands out for the consistency of the results, with average annual growth of 40% in the last five years, reflecting the ability to anticipate market trends and skills in structuring financial transactions tailored to its customers.
Votorantim

,
The bank is among the 600 largest domestic and multinational companies operating in the country, institutional investors and individuals with a private profile.
Banco Votorantim diverse activities include corporate banking, capital markets, treasury, international business and third party funds management (Votorantim Asset Management (VAM); retail financing (BV Financial), leasing (BV Leasing), and brokerage (Votorantim Securities).
Headquartered in Sao Paulo, it has branches in Rio de Janeiro, Porto Alegre, Curitiba, Campinas and Nassau in the Bahamas, and a representative office in London.
Founded in 1988 as a distributor of securities, three years later it has started operations as a commercial bank.
The bank is a part of the Votorantim Group, one of the largest financial conglomerates in Latin America, with operations in the cement, mining and metallurgy, agribusiness, chemical, energy, and finance.
Business data
Net income (2012): US$966.3 million
Total assets (2012): US$60.0 billion
Employees: 5,052
Banco Votorantim head office address
Av. Das Nacoes Unidas,
4.171 Torre A – 14 andar
Vila Gertrudes, Sao Paulo,
Sao Paulo, 04794-000, Brazil
Bank contacts:
Phone: 55 11 5171 1000
Fax: 55 11 5171 1920
Votorantim

,
Rate this bank:
GD Star Rating
loading...