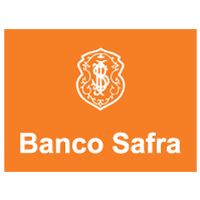 Banco Safra is one of the ten largest financial institutions in Brazil in terms of total assets. Its headquarters are located on Avenida Paulista, in the heart of Sao Paulo. The bank provides banking services for companies as well as individuals with a high purchasing power. The Bank is part of the Safra Group – one of the largest financial institutions in Brazil and globally. 
Safra Banco

,
The Safra Group includes the following subsidiaries:
Banco Safra (Cayman Islands) Limited
J.Safra Corretora de Valores e Câmbio Ltda
Safra Distribuidora de Títulos e Valores Mobiliários Ltda
Safra Leasing S.A. – Arrendamento Mercantil
Banco J. Safra S.A.
Safra Cia. Securitizadora de Créditos Imobiliários
Sercom Comércio e Serviços Ltda
Elong Administração e Representações Ltda
Safra Vida e Previdência S.A.
Safra Seguros Gerais S.A.
Aratu Segurança e Vigilância S/S Ltda
Taquari Representações e Participações Ltda
Stone Fountain Investments Inc
Kiama S.A
Banco Safra offers services to its customers through the three divisions: Safra Corretora, Safra Negócios, Safra Empresas and Safra Private.
Safra Corretora provides support and security to clients' investments.
In Safra Empresas, enterprise customers have more flexibility in the management of the company accounts.
The Safra Business provides financial solutions for small and medium enterprises.
Individuals can use the Safra Private and Safra Net Banking, wich allow accessing their accounts securely and conveniently.
Business data
Revenue (2012): US$5.9 billion
Net income (2012): US$668.7 million
Total assetsPrivate US$109.0 billion
Employees: 5.456
Banco Safra head office address
Av. Paulista, 2100, Sao Paulo,
Sao Paulo, 01310-930, Brazil
Bank contacts:
Phone number: +55-11-31757575
Safra Banco

,