In Brazil, canceled one of the largest IPO in the world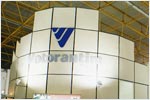 The collapse of the stock market in Brazil, which shows the weakest performer among the world's stock markets have had a negative impact on the initial public offerings of securities. 
The company Votorantim Cimentos SA, a Brazilian cement producer, has suspended the sale of shares in the amount of $ 3.7 billion, scheduled for this week.
This placement would be the second largest in the world this year.
Experts say that it is very difficult and unfavorable time for placement of shares, and market conditions are much worse than 1-2 months ago. However, the company will lose a large amount of money, if to place shares at the moment.
It should be noted that in this overturned by IPO companies worldwide. Total volume in 2013 has dropped by 4.2%, while the U.S. figure dropped to 31%.
While the placement of Votorantim Cimentos postponed until September 11. The company planned to use the raised funds to finance the investment program and the increase in working capital.
The Brazilian stock market began to fall on June 11, when it became aware of the sharp rise in inflation. In May, on an annualized basis, consumer prices rose by 6.5%, leading to increased rates of the Central Bank. The economy has grown at the same time in the I quarter of only 1.9%.