Brazil will support reais with $60 billion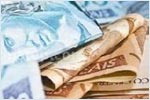 Brazil intends to support the rapidly falling national currency. Country's central bank announced that it would carry out foreign exchange intervention and the end of the year is going to spend for this purpose about of $ 60 billion. 
The need for action by the regulator in floods caused by the depreciation of the Brazilian real, which in tandem with the dollar is trading at a minimum of five years. The national currency of Brazil since the beginning of the year has already lost almost 17%.
In a statement, the Central Bank said that from Monday to Thursday it will sell on the open market currency in the amount of $ 500 million. This will insure investors in the event of a further devaluation of the real. On Fridays bidders Bank of Brazil will offer one billion dollars of loans.
These operations must first stabilize the foreign exchange market of the country, as companies and individuals who have obligations in dollars, selling reais and buying U.S. currency, fearing further depreciation of the national currency. This process is a bright color and emotional causes panic, the "Times Online".
The program of the Central Bank will begin August 23 and will last until December. If the situation on the currency market will change, and the volume of funds allocated will be missed, the Bank of Brazil is willing to increase the volume of interventions.
Earlier it was reported that four of Brazil's largest airline asked to give them tax breaks and to assist in financing the cost of fuel. This was due to the fact that nearly two-thirds of the cost of Brazilian airlines are denominated in dollars.