The national currency of Brazil: Coins and Banknotes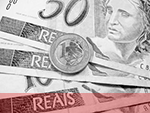 Brazilian real – the official currency of the Federative Republic of Brazil. Bank code – BRL. 1 Brazilian Real = 100 centavos. Existing nominal values banknotes: 100, 50, 20, 10, 5, 2 and 1 real. Coins: 1 real, 50, 25, 10, 5 and 1 centavos. 
On the front side of the series reais, there is the sculpture depicts the "Republic" – a young woman, crowned with a laurel wreath in the Roman style, the national symbol of the country. On the flip side – the image of the representatives of the Brazilian fauna: 1 real – hummingbirds, 2 reais – hawksbill sea turtle, 5 reais – great egret, 10 reais – Green Wing Macaw, 20 reais – golden tamarin, R $ 50 – jaguar, 100 reais – White grouper.
The flip side of the coin depicts the portraits of prominent people and politicians:
– 1 centavo – Portuguese captain Pedro Cabral, discoverer of Brazil on the background of XVI century ship;
– 2 centavos – the hero of the Brazilian revolution in 1789, fought for the independence of Brazil Joaquim da Silva Xavier on the background character of motion – the triangle – and the pigeon who personifies peace and freedom;
– 10 centavos – the first emperor of Brazil, Pedro I, who achieved independence in the XIX century;
– 25 centavos – the first president Field Marshal Manuel Deodoro da Fonseca against Brazil emblem – a five-pointed star, topped coffee tree branches.
– 50 centavos – professor, politician and historian José Maria da Silva Paranhos Junior, who is called the father of Brazilian diplomacy;
– 1 real – the sculpture "The Republic" as well as on the banknote of the same value.
The reverse of the coin depicts all Brazilian constellation of the Southern Cross, the denomination and year of issue.