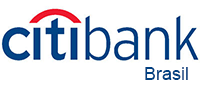 Citibank Brasil is a subsidiary of the U.S.-based financial institution, headquartered in Sao Paulo.
Citibank Brasil

,
The result of nearly a century of experience in Brazil is reflected today in a portfolio of more than 400,000 account holders, U.S. $ 1.9 billion in net income, U.S. $ 42.5 billion in total assets, $ 5 billion of equity and more than 6500 employees.
For Citi, Brazil is one of the most important markets of Latin America, so it maintains its strategy of expansion and investments, expanding business in the country.
Citibank serves customers in Brazil through the following units:
Citibank: banking services to individuals, small and medium enterprises with more than 100 branches and more than 400 thousand customers, providing a range of products and services.
Citi Wealth Management: structure with international assistance, Citi Wealth Management is the segment that offers customized solutions for preservation, management, and expansion of high net worth individuals and families. Provides customers with access to a wide range of products and services, with specialized treatment and exclusive benefits on their platforms: Citi Private Bank and Citigold Private Client.
Corporate segment: service for medium and large companies and financial institutions, every day offering solutions for more than 8500 companies, from structured finance to international know-how in investment banking products.
Credit card: one of the leaders in the market of credit cards, which issues and manages the portfolio of Citi cards, with approximately 6 million cards issued. Credicard also offers personal loan products and financing, serving a base of 113,600 customers through 100 outlets in 21 Brazilian states, forming a complete solution for credit products.
CitiCorretora: In 2009, when deciding to expand its portfolio and provide new investment opportunities in the stock market, Citi acquired Intra SA Brokerage and Exchange, a pioneer in home broker and one of the leaders in electronic trading on the Bovespa, with 30 years of experience in the retail brokerage.
Citibank Brasil head office address
Avda. Paulista # 1111
17 Andar
Bela Vista
Sao Paulo, SP 01311-920
Citibank Brasil contacts:
Phone: 55 11 5576, 55 11 2097
Fax: 55 11 5576 2873
Customer service (available 24/7, toll free):
SAC Citi – 0800 979 2484
SAC Credicard – 0800 724 2483
SAC Diners – 0800 724 4649
SAC Businesses – 0800 724 4653
Citibank Brasil

,
Rate this bank:
GD Star Rating
loading...