Brazilian real continues to free-fall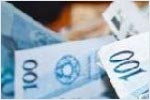 Brazilian real continues to show weakness and reduced to the dollar for six consecutive days. The Central Bank and a the Finance Ministry are working together to prevent a collapse in currency and debt markets. 
On last Tuesday, the real lost 0.9%, and by the end of last week, the loss amounted to 5%.
Traders, fearful that the monetary authorities may start a campaign to combat inflation, began to sell bonds and bullish on interest rate futures.
Now the bond yield curve in Brazil shows a 50% chance to raise interest rates by 0.75% next week. While most of the markets of developing countries experiencing pressure due to the possible reduction of QE by the Fed, the Brazilian market is additionally suffers because of weak economic growth and high inflation. These factors discourage investors.
The Government has already taken a number of measures to support the economy, but most of them have had the reverse effect. Now, economists expect Brazil's economy this year will grow by only 2.2% and 2.5% in 2014
Brazil's Finance Minister Guido Mantega warned investors on Monday, saying that making serious bets against the local currency, they risk losing their capital.
"It is natural that investors want to make money, but Brazil has a free-floating exchange rate that is not moving in the same direction. They may lose their money," – he said.