Brazilian real hit four-year low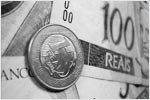 Brazilian Real hit four-year low, forcing the Central Bank to re-enter the market, while inflation accelerated more than expected.
Brazilian Real last month fell by 6.7% against the dollar. 
The head of the Central Bank of Brazil Alexander Tombini said officials are working to reduce inflationary pressure, which is associated with the fall of the currency. Wholesale prices and consumer prices rose by 0.74% in 20 days from May 21. Analysts polled by Bloomberg, expected growth of 0.65%.
The Brazilian currency fell 0.5% to 2.1815 per dollar. Earlier, it fell 0.7% to 2.1856 per dollar, its lowest intraday level since May 2009.
Chief economist at Banco Espirito Santo de Investimento Yankel Santos said that if the depreciation will continus, inflation will also accelerate.
Tombini confidence in the ability of the authorities to achieve the stability of the currency market.
Llast month, the national currency fell by 6.7% against the dollar and the weakest rate among the 16 major currencies.
In May, the annual inflation rate was 6.5% and the Central Bank was forced to raise interest rates on May 29 to 8% in order to curb inflation. Besides, there were mass protests and demonstrations, Brazilians are unhappy with high inflation and corruption, especially in hospitals and schools.