Experts lowered the forecast for GDP growth in Brazil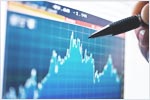 Economists have lowered the economic growth forecast for Brazil for this and the next few years. In their view, inflation will negatively affect the economy of the leading countries in Latin America. 
One hundred economists participating in the survey, revised forecast for GDP growth in Brazil this year for the worse to 2.2% from 2.21%, and the following year to 2.4% from 2.5%.
Inflation, in their opinion, will make this year's 5.80% (previously 5.74% expected), and up to 2014, consumer prices will rise by 5.84% (previously 5.80% expected).
At the same time, experts have raised the Selic interest rate forecast to 9.5% this year (previously expected 9.25%), the outlook for next year has not changed: in late 2014, the rate will be at 9.5%. Currently Selic rate steady at 8.5%.
Surveyed experts expect the ratio of debt to GDP in Brazil will increase to 35% from 34.90%.
The outlook for the trade surplus this year dropped to $ 3.4 billion from $ 4.35 billion, but forecast current account deficit has been maintained at $ 77 billion
According to the survey, the value of the dollar to the Brazilian real to reach 2.32.