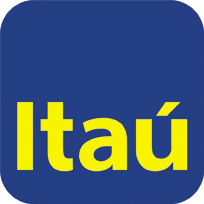 Banco Itau is a Brazilian bank headquartered in São Paulo. It is the arm of Itaú Unibanco Holding SA, which offers finance and insurance to tens of millions of customers, operates in more than 27 countries. The bank became the largest bank in the South America after announcing the merger with Unibanco on November 3, 2008, surpassing its historic rival, Bradesco. 
Itau

,
The merger of Itaú Holding Financiera SA (controlled by Itaúsa) with Unibanco Holdings SA resulted in Itaú Unibanco Holding SA and took place from 17 th largest company by market capitalization in the world, with total assets combined of more than R$ 575 billion, 4800 branches and 14.5 million account holders. Unibanco (União de Bancos Brasileiros SA) was absorbed by Banco Itaú SA.
On May 9, 2013, Itaú agreed to buy the Credicard, the oldest known card issuer in Brazil for almost R$ 3 billion.
Market value (2010): R$ 186.4 Billion
Net income (2010): R$ 13.3 Billion
Revenue (2010): R$ 114.4 Billion
Employees (2007): 60,000
Itau Headquarters location:
Praça Alfredo Egydio de Souza Aranha, 100
Torre Olavo Setubal, Parque Jabaquara
São Paulo – SP, Brasil
CEP 04344-902
Itau  Contacts:
Phone number: 55-11-50191122, 55-11-50291888
Fax: 55-11-50191133
Itau

,
banco itau
itau
itau bank
ABA routing number for itaú curitiba
banco itau S A Branches Brazil
itau brazil
Rate this bank:
GD Star Rating
loading...